Brands
Quality and consistency are key. It is our goal to work directly with artisans who make their own goods — not factories producing en masse for private labels. We believe this requires a higher level of expertise on the part of the artisan and allows for better communication with the customer. These qualities are evident in the final product, whether it's a pair of shoes or a handmade belt.
Please note We do not offer custom made shoes with Alden, Astorflex, Cheaney, or Rancourt.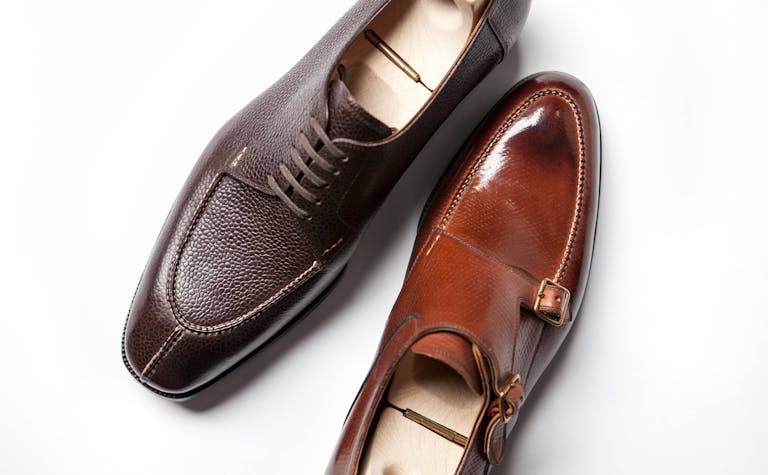 Frequently Asked Questions
Is custom made the same as bespoke?

Custom made is not bespoke. A bespoke shoe is crafted specifically for your foot. 99.9% of the population wear ready-made shoes. Unless you have a specific physical need, you should be able to find a shoe that will fit your feet comfortably.

Bespoke shoes are made directly with the shoemaker. This is a process that takes up to one year to complete, and is generally much more costly than custom made. We do not offer bespoke fittings.

Should I wait for a trunk show?

For most brands, custom-made orders can be placed at any time. We keep a full range of leather swatches available in our shop year-round. However, trunk shows are an excellent way to meet representatives from our brands and view new or upcoming models.

Do you make shoes for women?

Yes! We can make any style in a size that will fit you. The ordering process remains the same. You can pick the model, leather, and soles. We usually have sample sizes you can try, but we recommend contacting us first.

What is the return policy?

Since custom-made shoes are produced expressly for you, all orders are final sale. For that reason (and the fact that our goal is for you to have a wonderful pair of shoes), we take great care when advising you.
Events
Trunk shows are an excellent time to meet the owners and makers of the brands and shoes we sell. They're special events and happen only once or twice each year.
View all events